Locations
Welcome to Lage
At our northernmost location, refined sugar and white sugar are produced for further industrial processing.
With passion for sugar
The Lage sugar factory was founded in 1883 as the Lippische Public limited company and started operations with the first beet in 1884. It has been a Pfeifer & Langen site since 1986. The sugar factory supplies many renowned confectionery manufacturers in the region and has a bulk packaging line for filling products into big bags, as well as a loading station for loose sugar from the silo.
Your contact person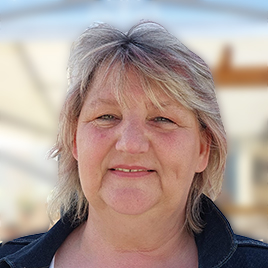 Ines Lange
Assistant Location Management
PHONE
+49 5232 602-0
EMAIL
lage@pfeifer-langen.com
ADDRESS
Heidensche Str. 70
32791 Lage
Location management
André Kiepe
Commercial administration
Dipl.-Ing. Martin Corbach
Production & Technology
105 employees at the site
20% of employees have been with the company for 20 years
beet suppliers from the regionover 1,000
Water from the beet, which is used in the production process:100%
Our production
In 2018, we invested in the construction of a new beet yard. This allows us to better control the delivery of beets. We can now also accept larger deliveries, reducing traffic volume and emissions. We actively address environmental protection, especially noise control, by implementing measures such as noise barriers and enclosing the beet washing facility, ensuring a quiet production process.
We embrace new technologies. Cameras are used to capture data during beet loading. This enables us to evaluate our beets more accurately and support our assessments with data.

Our Team
In the Lage area, we are among the major employers. With great passion, a spirit of innovation, and an extra dose of customer focus, we strive daily to ensure that our sugar satisfies the excellent taste of our customers. Throughout the year, we are seeking individuals who want to share this spirit with us, such as apprentices, electricians, and industrial mechanics. It is worth taking a look at our job postings.
Our commitment
We work closely with the agricultural vocational school, universities, and schools in the surrounding area, offering plant tours during and outside of the campaign season. Together with the city's marketing association, we organize events such as the Day of Agriculture. We maintain close contact with the local fire department, which conducts their exercises on our premises several times a year. Additionally, we have been supporting the local food bank for many years by providing them with our sugar products.
Get to know us!
Would you like to take a look behind the scenes and see how the well-known "Diamant Zucker" is made from regional sugar beet? Then sign up for one of our plant tours.